Wow!  Yesterday was one of those busy, busy days…….maybe this is what it gets like for most people just before Xmas?
I started the day with my usual run with mum, only it was still raining a bit when we were out, yuk!  Nice towel dry to follow, now you're talking…..:)
Later on there was lots of fussing in the house, so I knew something was going on, and Cory started moving my bed.  I followed in hot pursuit…..he put my bed in the car!  This could only mean one thing…..I was going somewhere…..
Yay, it turned out we were going to Dad's office…..I've only been there once before, that was when I was just a little puppy, so I don't remember much.  It was fun, lots to sniff…..there was also this funny toy on the desk too, it was like a Snowman and a dog, but they were alive…..very confusing!……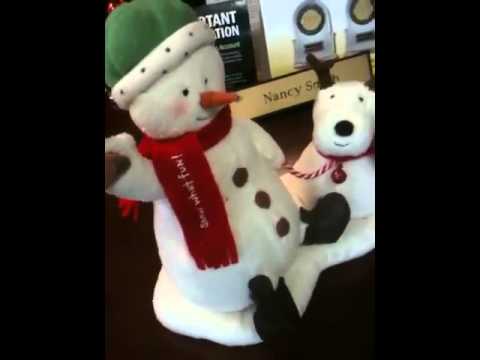 Mum, Dad and the kids then went to a special Xmas lunch, I couldn't go in, so I guess that's why I brought my bed, I had to stay in the car….better than staying at home though, plus Cory gave me a nice yummy green minty bone to eat…..:)
In the evening we went to Nana and Grandpa's house for dinner, yep, all of us!  I brought my dinner too…..by this time though I was pretty pooped…..
When we got home, I was ready to collapse…..