Twas the night before Christmas……..what?  The night before Christmas?  The day I've been waiting to arrive for weeks!!  Yippee, it's finally here, oh, but hold on……we're not ready…….I know we're not ready as I've read the poem……
Shouldn't the stockings be hanging by the chimney with care?  Well, ok…….I put my hands up to this one (ok my paws!)……I know they were hanging up at the chimney until I got all impatient and decided I needed to check them……doh!
But still, we need to get them back up there……and quickly……I know where they are, Dad put them on the counter out of my way, but I can reach, I've stolen them a few times now in the hope they'll put them up, but no luck yet……oh no, I hope we get them up before Santa comes!
They also have a Santa hat up on the counter with the stockings…….they must think I'm daft…….I know where they're going with that one…..
I keep stealing the Santa hat too, I need to destroy it…….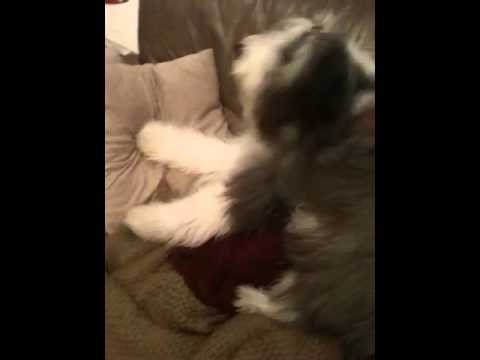 Did I understand?  Did Dad say I could play with the Santa hat so long as I do it in my bed?  Tee hee……. MERRY CHRISTMAS EVERYONE! – Doh!  Where are the Carrots for the Reindeers……?