I'd been looking forward to the New Year celebrations all day, I'd even had to have a looooong grooming session because of the impending New Year.  Sometimes, though, I think I forget (as does mum), that I'm only 8 months old and the excitement of certain events can be a little too much……
New Years Eve was no exception to this.  Our friends came over to help us celebrate and the boys all wanted a Star Wars Marathon.  Being one of the boys, I decided to see what Star Wars was all about.  Maybe it will grow on me in time, but by movie number Two I was fast asleep!!
Mum said it was probably watching Star Wars that sent me to sleep (I don't think she's a big fan!!).  She was busy chatting and hanging out with our friends and their little 3 month old baby.  I've met the baby before, but I'm still totally fascinated by her.  I know she's very delicate and I can't jump up on her, I can't wait until she's old enough to play with me though!
I could hear the excitement building as I guessed the New Year must be close!  I didn't bother opening my eyes though…..  They were watching something on the TV called the ball and they were waiting for it to drop!!  I was quite happy with my nap.  Mum convinced me in the end I should make an effort and join in!  Believe me, it was quite an effort!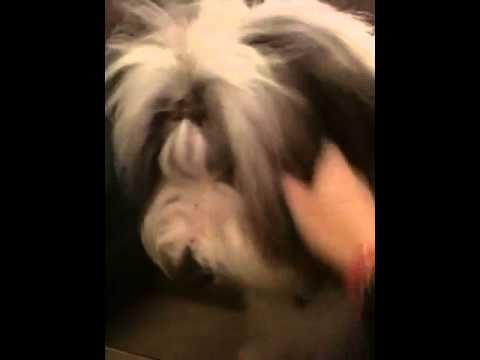 To be honest, I didn't really understand all the fuss, it didn't seem as if anything had changed!  I wondered what time I'd be able to go back to sleep?
There was some discussion about New Years Resolutions, I had to look up what this was – I discovered it means "…a commitment that an individual makes to a personal goal, project, or the reforming of a habit. This lifestyle change is generally interpreted as advantageous".  I kind of felt I should join in on this one, the only thing I could come up with though, was to not wake up at 6am every day, as I know that mum doesn't really appreciate that at the weekend.  I have been working on this over the holidays anyway and I'll try to stick to it.  I figured, why wait until the New Year?   Other than that I think I'm a pretty good puppy, even if I say so myself, tee hee!!
I wonder what all the other doggys had as their New Year's Resolution?
Here's to a happy, fun filled 2011 for everyone!!