We've had weeks of dry sunny weather.  But the long dry spell has now finished and this week we're going to have rain, rain, and more rain!!
I'm happy to go out and splash about in the rain, I'm just not a big fan of the hose down afterwards!  Mum said she's not a big fan of the clean up operation either…..
Dad announced yesterday that he thinks I should get boots and wear a sweater to keep my coat clean and dry.  I'm shocked, I didn't think Dad would be the one trying to get me a closet full of clothes!!  I just hope there's pink in there……!!  Hold on, what am I saying? I mean, I hope there's NOT any pink in there, phew, that was close!!  I think I might try the clothes thing, I kinda liked my Halloween outfit.
Anyway, yesterday it was raining when we got up and Mum was not keen to take me out and get me all wet and dirty.  I convinced her though, that we should go anyway.
I had to be super cute in order to convince her……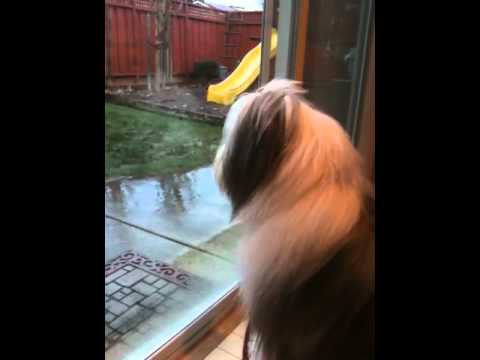 We went for a long run, I got to splash in lots of puddles, I was kinda messy by the time we got home…..then we had a loooooong grooming session to get me back to my fluffy state, it was worth it though!!
I wonder if any other dogs like to play out in the rain too?  I didn't see many out……dressed or not dressed……