Despite getting my own bed, I've still been working on my mission to be allowed on the sofa. I can tell you, it's not been easy to convince Mum and Dad that really I should be allowed to hang out on the sofa!!
That is until the other day, I'll call this my Ace card that I used and pulled out all the stops I could to be really funny!   To be honest, I didn't realise it was funny at the time.  I thought that if I couldn't see them, then they couldn't see me, apparently that's not the case!   Somehow Mum managed to catch it on video too…..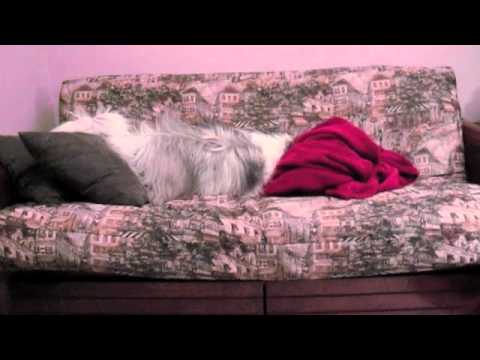 After this their walls were down and Dad suggested we put a temporary sheet on the sofa and let me up!!  Did I hear him correctly?  No, it can't be – that I'm allowed up there?!  The sheet was on and I decided to try my luck, tah dah!  I think I took it a bit far by sticking my tongue out at Mum?
But, you know, maybe I am allowed up here cos they're not telling me to get off!!
I so hope they don't change their mind, cos I'm liking this…….Finally!!  Next stop the lounge sofa? Tee hee