Sometimes you just don't know when you've got it good!!
I initially thought the blue donut 'Cone of Shame' was bad, until I discovered that I could still lick my stitches with it on!  Well, they were itching!!
Where I went wrong was doing it while I was being guarded watched!
Carly even gave me a big old lecture about how she'd tell Mum if I didn't stop, I tried wandering off and not listening but she carried on…….  I thought she was on my side really and she was bluffing!!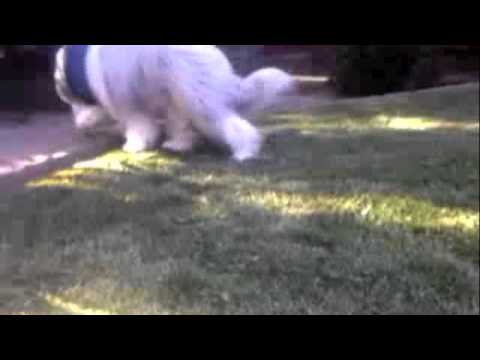 Apparently I was wrong, Carly told Mum and yep, suddenly I'm sporting a bonnet!!   We have the BEST neighbours, one of them told Mum they had a Big Cone lying around and I could borrow it – YAY!! (I'm being sarcastic!)
How ridiculous does this look?  Not to mention how big my head has become and how I keep bumping into things!  I guess Carly was really warning me for my own good, doh!  If only I'd listened!!
I wonder if it's too late to strike a deal with Mum?  I PROMISE I won't lick my stitches if you just take this stoooopid cone off?!