Do you remember a few weeks ago I met a Sheep for the first time?
Well, the other day Mum arranged for one to stay with us for the week!!  I couldn't believe my eyes when he arrived – my very own Sheep – he was a lot smaller, so I wasn't scared and he sure could run fast!!
His name is Casper – it's my birthday next month, so I thought he was an early birthday present!
He even brought me a toy as a gift……
I was having fun squeaking his toy and causing a little lot of Mischief – WHEN……
Wow!!  He's already trained in Mischief and he taught me a lesson!!  He's good!!
I feel it's my duty to all you Mischief Makers to pass along this lesson……
Mischief Rule No. 12 – Don't underestimate the little guy – The Big Dog, isn't always The Top Dog!
He's good at playing chase in the garden too……. I don't know if he realized I was trying to herd him?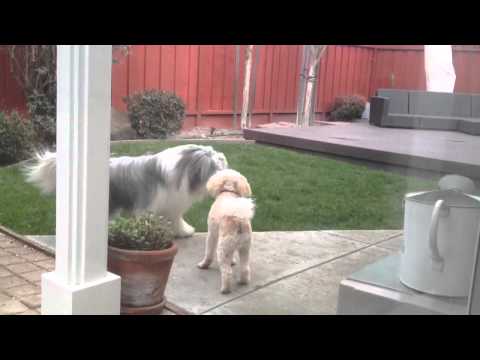 I was really sad when he went back home, I love my little Sheep, see you soon Casper!
I'm in the Monday Mischief Blog Hop -
GRAB THE BUTTON – Just copy the code below
<div align="center"><a href="http://snoopysdogblog.com/" title="Snoopy's Dog Blog"><img src="http://3.bp.blogspot.com/-cXIn256AHbY/Trhi0uYkG0I/AAAAAAAAAV8/06Sm33olJaw/s1600/Bloghop.jpg" alt="Snoopy's Dog Blog" style="border:none;" /></a></div>
Want to join in the Monday Mischief fun too? Just click on the link below and connect your post -
Even if you're 'Non-mischievous' you can join in too – anything Pet related is cool !! I can't even imagine not being a Mischief Maker – Tee Hee