On Saturday one of the local animal shelters hosted a Wag 'N' Walk – we did it for the first time last year – just have to mention I was the first Dog over the line last year!! Tee Hee
It's not supposed to be a race for the Dogs, just the humans, in fact us Dogs are 'supposed' to walk – come on, I run every day and when I saw Dad running off into the distance I was in hot pursuit!! I couldn't resist a little Mischief!!
There was me thinking Dad was 'slow' – I guess it helped him that he wasn't taking potty and water breaks!!
Mum ran with me this year and Dad got to head off first with the runners without Dogs – but I caught him by half way!!
He wondered what it was on the back of his ankle – I was just letting him know I was there!!
 I'm sure I could have beaten him, but I thought it would be a nice Father's Day gift to let him win!!
I'm super competitive and kept looking behind to see if any other Doggies were gaining on me, I held out and finished first again – undisputed Doggie Champion!! Tee Hee
And here's some video of me crossing the finish line – I got lots of cheers – we've got it from 2 angles cos Dad and Mum were both videoing it at the same time – I think that's why Mum ended up going the wrong way!!  Doh!!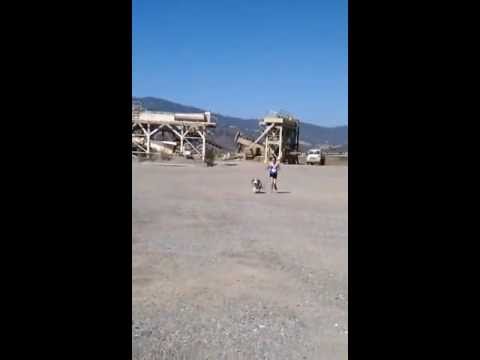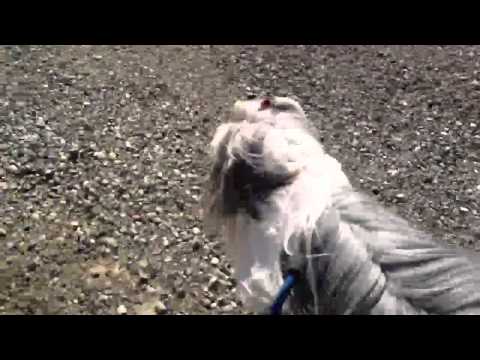 PS – Thanks to everyone who's sent their Mischief in for the Mischief Book!! Woohoo!!  Just a reminder, the deadline is June 30 and if you get it in by end of June 17 (Midnight PST) you will be entered into the draw to win a Mischief T-Shirt!!
 Just click on the Mischief picture below for all the details
 Remember – it's open to ALL animals, not just Dogs
I'm in the Monday Mischief Blog Hop -
GRAB THE BUTTON – Just copy the code below
<div align="center"><a href="http://snoopysdogblog.com/" title="Snoopy's Dog Blog"><img src="http://3.bp.blogspot.com/-cXIn256AHbY/Trhi0uYkG0I/AAAAAAAAAV8/06Sm33olJaw/s1600/Bloghop.jpg" alt="Snoopy's Dog Blog" style="border:none;" /></a></div>
Want to join in the Monday Mischief fun too? Just click on the link below and connect your post -
Even if you're 'Non-mischievous' you can join in too – anything Pet related is cool !! I can't even imagine not being a Mischief Maker – Tee Hee