I loved being on the Bed so much when we were at the Hotel in Salt Lake City that I thought I'd have another try at making it acceptable at home….
So here's the thing, it appears I can get away with jumping up on the bed so long as I get off by the time Mum counts to 3 (It's not like you have to learn to count really high, 3 seems to be sufficient!)
Introducing Mischief Rule No. 18 – Learn to Count!
Yes, I really can count, this is a little trick I learnt a while back –  Trust me Mischief Makers it gets you out of a lot of trouble…..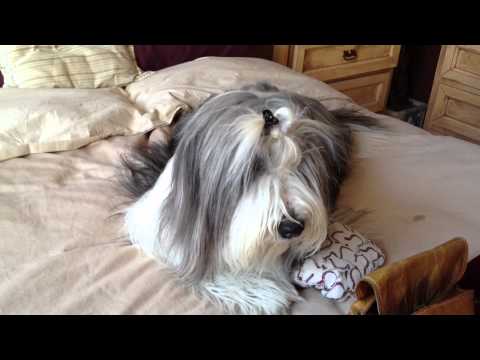 Of course, I like to have the last word, and so long as I do that funny thing and shake my head at the same time, Mum is too busy being amused to realize I had the last word!!  Tee Hee
PS – If you haven't yet entered our great PetSmart Bret Michaels Giveaway, hop on over, it's not too late – you can also win $$$ in PetSmart Gift Cards!!  Woohoo!!


I'm in the Monday Mischief Blog Hop -
GRAB THE BUTTON – Just copy the code below
<div align="center"><a href="http://snoopysdogblog.com/" title="Snoopy's Dog Blog"><img src="http://3.bp.blogspot.com/-cXIn256AHbY/Trhi0uYkG0I/AAAAAAAAAV8/06Sm33olJaw/s1600/Bloghop.jpg" alt="Snoopy's Dog Blog" style="border:none;" /></a></div>
Want to join in the Monday Mischief fun too? Just click on the link below and connect your post -
Even if you're 'Non-mischievous' you can join in too – anything Pet related is cool !! I can't even imagine not being a Mischief Maker – Tee Hee