Yeah, there are better things in life than bath time – I wonder if any Dogs out there LIKE getting a bath?
The good thing here in California is that it's nice and warm outside, don't tell Mum and Dad, but sometimes it's quite refreshing!!
The other good thing is we always go for a walk afterwards to dry off and we bring my buddy Cosmo who lives next door (nope, I have no idea how come he doesn't get a bath when I do!)
My policy is to just suck it up and get it over with and move on to the walk – I always like to have a good shake afterwards and I try as hard as I can to soak Mum too! Tee Hee
Well, come on, it's fun Mischief, right?!
Until this video I had no idea how far behind my butt was in the wiggle process, it totally looks like it's just doing it's own thing, huh?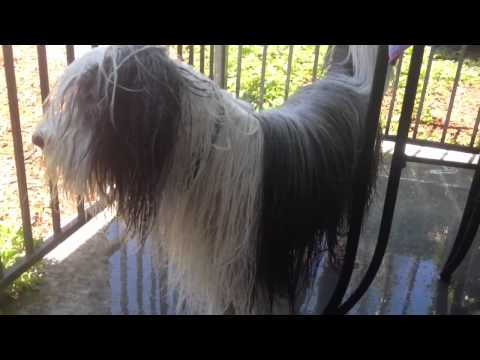 I'm in the Monday Mischief Blog Hop -
GRAB THE BUTTON – Just copy the code below
<div align="center"><a href="http://snoopysdogblog.com/" title="Snoopy's Dog Blog"><img src="http://3.bp.blogspot.com/-cXIn256AHbY/Trhi0uYkG0I/AAAAAAAAAV8/06Sm33olJaw/s1600/Bloghop.jpg" alt="Snoopy's Dog Blog" style="border:none;" /></a></div>
Want to join in the Monday Mischief fun too? Just click on the link below and connect your post -
Even if you're 'Non-mischievous' you can join in too – anything Pet related is cool !! I can't even imagine not being a Mischief Maker – Tee Hee