For anyone who follows me on Twitter or Facebook you may have seen a few days ago I really wasn't very well!!
Yep, I had to go to the Vets – I had my Mum super worried!!
So, I didn't actually swallow a Tennis Ball, but it sure felt like it!!  My throat was the size of a Tennis Ball and it was very sore – I couldn't eat, couldn't bark properly (that was embarrassing!), I was short of breath and even snored when I tried to sleep!!
I normally like going to the Vets, but when we got there this time I was nervous!
They managed to talk me into going in the exam room and then they came towards me with the THERMOMETER!!
You think I don't remember that thing?!  I was having none of that and did a great dance around the room and hid behind Mum – they gave up!!  Yay!!
I had to stay at the Vets and they gave me a nice treat and then everything seemed ok (I felt all kind of dreamy!) and I didn't really care what tests they did anymore – I was chillin'!!
My wonderful Vet ruled out anything serious and doesn't know what caused the huge swelling but let Mum take me home with lots of medicine – I have to take it for 2 weeks!!
Unlike last time when I had to take pills,  Mum wasn't tight and bought the Pill Pockets, oh how I love them!!
I was feeling pretty blue all afternoon until a parcel arrived for me – Yay!!  It was some prizes I'd won from my buddy Dakota!!
Here I am playing with my new toy on a little video!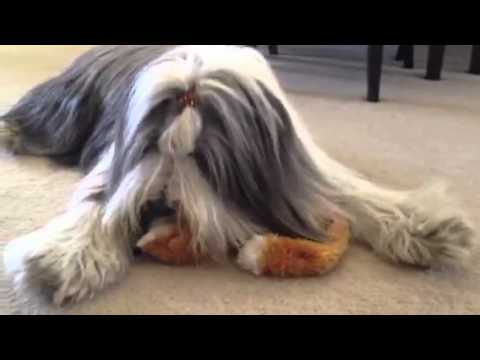 I hadn't eaten any of my kibble since the previous morning, so despite Mum being really strict with my food (I have a delicate stomach) she decided to try and tempt me with this – It's Nutrish from Rachel Ray –  Oh yes, I was tempted – I ate it all and then I went on to eat my kibble – I was finally hungry!!  Yay
I'm happy to report the swelling has nearly all gone and I'm feeling better – I have wonderful friends, thanks to you all!!
 I wonder how many other animals have unexplained illness too?
Have a fun weekend
PS – (Mum said I have to mention, we're not endorsing the food as the next day my poop wasn't great, however, she believes that really was more likely relatated to the medicine and I'll be allowed to try the rest of the food Dakota sent once I'm better – Yay!)