So it's bad enough that I'm always getting mistaken for a Sheep Dog, but sometimes the Dogs want me to BE the Sheep!!  No way!!  Don't you know that it's in my blood to herd the Sheep – I like to be the chaser, not the one being chased…..
So here's my dilemma – I've got a play date coming up with a wonderful Beardie who I met online – her name is Pepper – and I really like her – only problem is it turns out she doesn't want to be the Sheep either?!  Doh!!  I want to impress her, but I'm just not sure I can go as far as to be the Sheep and let her chase me?!!  Let a Girlie chase me, I really don't think that would look cool – and what if she caught me?
Here's what happened the other week when I went to the Dog Park…..
They even tried to show me it would be fun if I was the Sheep – Check out this little video….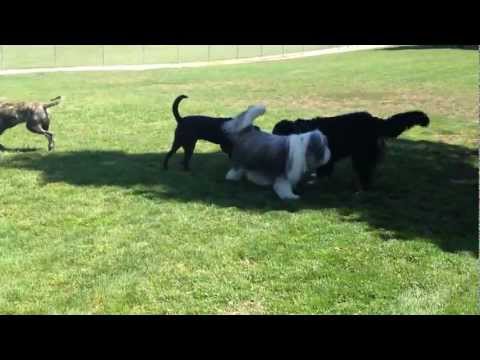 But I held firm – I have my reputation to think of….
Any advice as to what to do on my date would be greatly appreciated – It's tough making decisions some times!! – Especially when Girlies are involved!!  
PS – It's the last day to enter my PetSmart Halloween Costume Sweepstake!!
 Watch out for another really great Sweepstake starting on Friday – Woohoo!!