I have a Girlie Friend in England named Mollie (It's a long distance romance – we met online).  You may know her?  (To all the other Girlies – don't worry, I'm not exclusive, I like to have lots of Girlie Friends!)  
Sometimes she can be quite a flirt – she sent me a prize that I won on her blog and inside was a picture of her!!
She's certainly not shy and I've really got a soft spot for her…..
She kept asking me if my prize had arrived and it seemed like it was taking forever.
I decided I'd keep watch for the mailman on the lawn – Mum had no idea what I was up to and thought I was just being Silly and Mischievous – ME?!
I was ready to camp out all night if I had to so I didn't miss the mailman……
(If you like seeing me be super cute Mum thinks you might want to check out this little video!)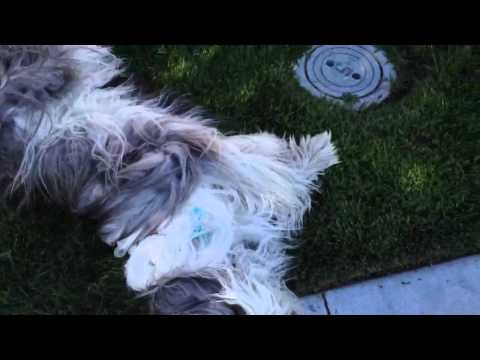 FINALLY he arrived and there was my special parcel – WOOHOO!!  See Mum, I'm not ALWAYS up to Mischief!!  Tee Hee
I LOVE my sausages Mollie – how does she know how much I love sausages?
Have you been up to Mischief this week?  Or is that a silly question?!  
PS – If you missed it on Friday, I'm offering a chance to WIN a Walk in Sync Dog Harness and Lead System, it's really cool and I use one – entry is really simple and you can enter each day!
I'm in the Monday Mischief Blog Hop -
GRAB THE BUTTON – Just copy the code below
<div align="center"><a href="http://snoopysdogblog.com/" title="Snoopy's Dog Blog"><img src="http://3.bp.blogspot.com/-cXIn256AHbY/Trhi0uYkG0I/AAAAAAAAAV8/06Sm33olJaw/s1600/Bloghop.jpg" alt="Snoopy's Dog Blog" style="border:none;" /></a></div>
Want to join in the Monday Mischief fun too? Just click on the link below and connect your post -
Even if you're 'Non-mischievous' you can join in too – anything Pet related is cool !! I can't even imagine not being a Mischief Maker – Tee Hee