I think sometimes humans are confusing, it's hard to know what they really want?
Therefore, it's important that we animals set a good example – let's make sure there's no confusion!!
Introducing Mischief Master Class Rule No. 20 – Ask For What You Want!  
(Yes, we really are on Rule No. 20, there's a lot to being good at Mischief you know!! Tee Hee)
I'm even showing you a Case Study today:
When Dad uses the Grill we have a deal – I don't bug him (even though it all smells wonderful) and he ALWAYS gives me a Hot Dog after everyone has had their Dinner!!  Good deal, right?!
This particular day I was in the mood for a Hot Dog, and there was no sign of the grill going on, so I wanted to make sure I was very clear about what I wanted!!  Tee Hee
Check out this little video of me playing chase with Mum around the garden – Gotta make sure she understands what I'm after, right?!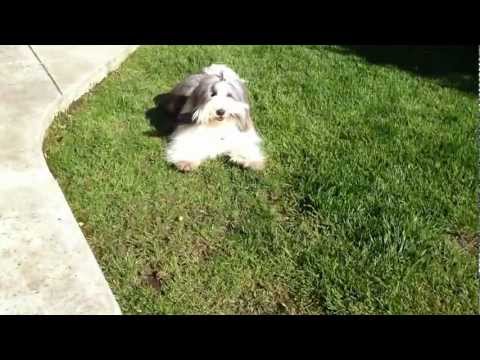 Mum thinks this picture of my feet in the air as I'm prancing around with the Tongs is super cute!
I wonder what Mischief everyone else has been up to this week?  Tee Hee
I'm in the Monday Mischief Blog Hop -
GRAB THE BUTTON – Just copy the code below
<div align="center"><a href="http://snoopysdogblog.com/" title="Snoopy's Dog Blog"><img src="http://3.bp.blogspot.com/-cXIn256AHbY/Trhi0uYkG0I/AAAAAAAAAV8/06Sm33olJaw/s1600/Bloghop.jpg" alt="Snoopy's Dog Blog" style="border:none;" /></a></div>
Want to join in the Monday Mischief fun too? Just click on the link below and connect your post -
Even if you're 'Non-mischievous' you can join in too – anything Pet related is cool !! I can't even imagine not being a Mischief Maker – Tee Hee