Last weekend I made a great new friend.
His name is Wyatt and he's a 10 Year Old Golden Retriever – He lives with some very good friends of Mum and Dads.  He had Doggie siblings, but sadly they passed away and now he's an only Dog, just like me.
His Mum thought he'd forgotten how to play with other Dogs as he was getting really grumpy when he met another Dog out on a walk.
Wyatt's parents and my parents arranged for him to come over and have a play date with me, cos if anyone can teach a Dog how to play again, I figured it would be me
Wyatt brought me a super cool gift of a Red Ball and in no time we were playing in the garden – Yay!!
I even demonstrated to him how to catch chase a Squirrel.  He doesn't get Squirrels in his garden, so he didn't really understand, but I think it's a good skill to have!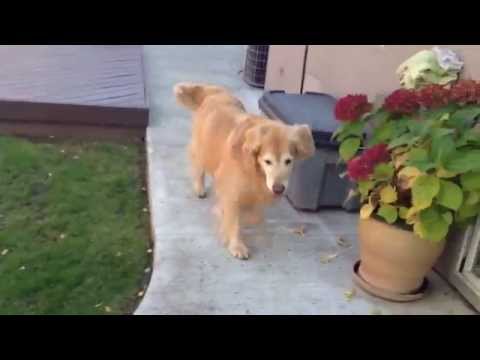 By the end of our play date Wyatt was showing me how mischievous he is, he was barking and he was getting me to chase him around the garden whilst he had the ball in his mouth, every time I nearly got it he body swerved me and I missed!!  Doh!!  He sure is a Wise Old Dog!!
Thanks for my new ball Wyatt – you sure have good taste in toys – this is my new favorite toy – I hope you're free to play again soon!
I wonder what everyone else has been up to?
I'm in the Monday Mischief Blog Hop -
GRAB THE BUTTON – Just copy the code below
<div align="center"><a href="http://snoopysdogblog.com/" title="Snoopy's Dog Blog"><img src="http://3.bp.blogspot.com/-cXIn256AHbY/Trhi0uYkG0I/AAAAAAAAAV8/06Sm33olJaw/s1600/Bloghop.jpg" alt="Snoopy's Dog Blog" style="border:none;" /></a></div>
Want to join in the Monday Mischief fun too? Just click on the link below and connect your post -
Even if you're 'Non-mischievous' you can join in too – anything Pet related is cool !! I can't even imagine not being a Mischief Maker – Tee Hee