Today is See Beautiful Friday, it's held once a month by my buddy Sugar the Golden Retriever.
I've been thinking for a while that with all the beauty out in the garden it was about time I moved my bed over to the big windows.
I mean, what could be better than watching the Squirrels out the window from your own bed?!
I packed up a few things – my blanket, a toy and started to move……
I had no idea how much work it would be…..
For anyone else thinking about moving for a better view, it's harder than you imagine.  Make sure you've got water on hand, I got very thirsty and had to take a drink!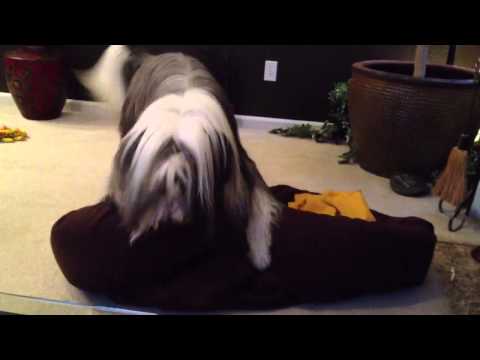 In the end I gave up and put my bed back by the fire place….. You'd have thought Mum could have given me a hand?
Anyone else moved for a better view?
Have a fun weekend everyone and watch out for my Mischief Master Class Book update – I'll be telling you in my Mischief Post on Monday all about the exciting developments, we're nearly there!!