As some of you know, Mum's been ignoring me a little lately, because she's been working on the book.
I can be very patient, however, sometimes I can also get a little bored, so I just make my own entertainment!!
For those of you who haven't tried the Toilet Roll trick, I would advise doing it when the roll is full.  It's way more fun to drag it around the entire house!
But any amount is also worth the effort!
 I discovered this toy as a little puppy!!
Just be careful to 'Never Plead Guilty' when you get caught – Mischief Rule No. 5!
I thought it best I avoided questioning and got out into the garden as fast as possible!  Tee Hee
Can you hear the doubt in Mum's voice in this little video, I don't think she 'really' believes I could have done this!!  Tee Hee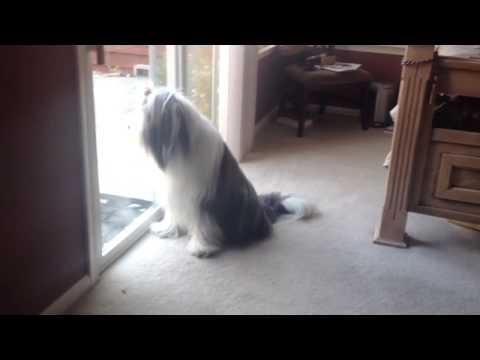 I wonder what everyone else has been up to this week?
I'm in the Monday Mischief Blog Hop -
GRAB THE BUTTON – Just copy the code below
<div align="center"><a href="http://snoopysdogblog.com/" title="Snoopy's Dog Blog"><img src="http://3.bp.blogspot.com/-cXIn256AHbY/Trhi0uYkG0I/AAAAAAAAAV8/06Sm33olJaw/s1600/Bloghop.jpg" alt="Snoopy's Dog Blog" style="border:none;" /></a></div>
Want to join in the Monday Mischief fun too? Just click on the link below and connect your post -
Even if you're 'Non-mischievous' you can join in too – anything Pet related is cool !! I can't even imagine not being a Mischief Maker – Tee Hee