Oh yes everyone – Christmas started on Thanksgiving day last week in our house.  The Christmas tree was put up, the lights went on outside, the stockings went up on the fire place – and I just chilled out and ignored it all!!
"What?" I hear you say "I thought you were a Mischief Master?"  You see, Dad was at home for 4 days – yes, 4 days, so I couldn't even begin my Mischief until he'd finally gone back to work (more about that strategy in my book!).
Dad put up the stockings and said sternly "Snoopy, not for Doggies!"  – I made him feel good and went and sat by Mum and looked sheepish – Tee Hee
Then Monday morning came, Dad went to work, and oh, look what's missing…..
I wonder where it could be?  I love prancing around and being silly!!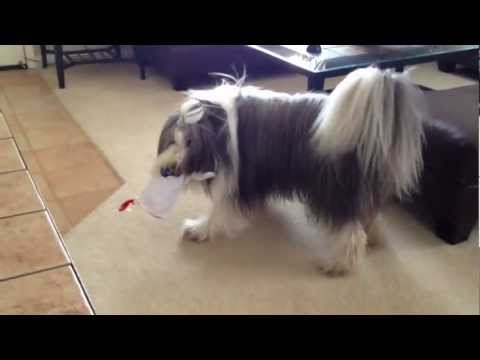 Did you guess what happened to the stocking?
I've promised I won't mess with the Tree….. Trying to remember if I had my paws crossed or not?!
- I also just need to take a moment to say a massive THANK YOU for all the support and wonderful reviews and comments I've received for the Mischief Master Class Book – You're all amazing!
If you missed it, it's available as an ebook on Amazon and the paperback is coming really soon, we're just doing the final steps to have it for sale on Amazon in time for Christmas, and so far, we're still on target – I will be certain to let you know the moment it goes on sale!  Yay
Did you see the reviews that Bongo and Sugar did of my book – they were SO cool!!  I'll also be posting about some other reviews that have just gone up too – Thank You everyone, Mum and I are totally blown away by all the love we're feeling!
If you didn't see Bongo's review click on the picture and check it out!
If you click on Sugar's picture you can see her review too
Just a final little reminder that 50% of profits from the book go to Therapy Pet Support Charities
I wonder who else plays with holiday decorations?
I'm in the Monday Mischief Blog Hop -
GRAB THE BUTTON – Just copy the code below
<div align="center"><a href="http://snoopysdogblog.com/" title="Snoopy's Dog Blog"><img src="http://3.bp.blogspot.com/-cXIn256AHbY/Trhi0uYkG0I/AAAAAAAAAV8/06Sm33olJaw/s1600/Bloghop.jpg" alt="Snoopy's Dog Blog" style="border:none;" /></a></div>
Want to join in the Monday Mischief fun too? Just click on the link below and connect your post -
Even if you're 'Non-mischievous' you can join in too – anything Pet related is cool !! I can't even imagine not being a Mischief Maker – Tee Hee