Woohoo!!  I'm beyond excited!!  I finally got the paperback version of Mischief Master Class also up for sale on Amazon.  On Friday I had to wait in all afternoon for the UPS man to deliver the proof copy and boy was I excited to get my paws on it!!
I even got to help Mum when she opened the box, I think she was as excited as I was!! Tee Hee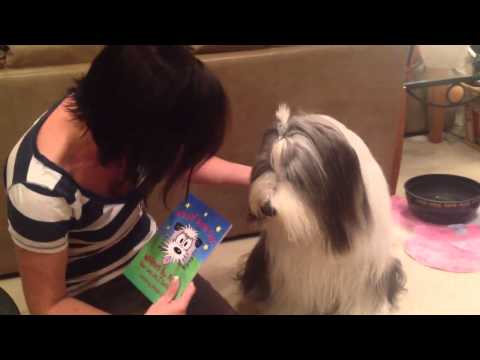 I managed to get a few little mischievous nail marks on the cover, I told Mum it was a Pawtograph!!  Tee Hee
I know lots of you have been waiting so very patiently to order the paperback for yourself or as Christmas presents – Thank You for your patience!
 Here are the links for ordering from Amazon:
The paperback is in full color with over 100 fun photos – we are offering it at an introductory price of $19.95 (Your local Amazon will convert to local currency where necessary).  The book can even qualify for FREE shipping on Amazon.
PAPERBACK – AMAZON.COM
And for my friends in the UK who would like to buy the paperback – click on this link – Mischief Master Class PAPERBACK – AMAZON.CO.UK
EBOOK – AMAZON.COM
And for my friends in the UK who would like to buy the ebook – Click on this link – EBOOK – AMAZON.CO.UK
Just a reminder, 50% of profits go to help Therapy Pet Support Charities
I hope the book makes you smile and if it does, it would be super helpful if you're able to leave a review on Amazon!
A huge THANK YOU to everyone for your support with this book – I have the best friends I could ever hope for!
I'm in the Monday Mischief Blog Hop -
GRAB THE BUTTON – Just copy the code below
<div align="center"><a href="http://snoopysdogblog.com/" title="Snoopy's Dog Blog"><img src="http://3.bp.blogspot.com/-cXIn256AHbY/Trhi0uYkG0I/AAAAAAAAAV8/06Sm33olJaw/s1600/Bloghop.jpg" alt="Snoopy's Dog Blog" style="border:none;" /></a></div>
Want to join in the Monday Mischief fun too? Just click on the link below and connect your post -
Even if you're 'Non-mischievous' you can join in too – anything Pet related is cool !! I can't even imagine not being a Mischief Maker – Tee Hee