Before I start today, I just want to send hugs to my buddy Brooks who went to the Rainbow Bridge this weekend – Also big hugs for his family, we're thinking of you….
 **********
If you saw my post on Wednesday, you'll know that Mum caught me limping again! (Huge thanks for all the get well wishes – I have the best friends!)
Of course, Mum catching me limping meant another trip to the vets – doh!
I love my vet Dr Rick, but I'm old enough now to know it's not all fun and games every time I go there!
I made sure I wasn't limping by the time we arrived and we went into the exam room – I immediately hopped onto the humans seat – it's safe there, cos nothing bad happens to the humans, right?!
As we waited I started to get a little nervous I think Mum was getting a little nervous!
I let Mum hold my paw as soon as the nurse came in and when she let go I made her hold it again, you know, just to make her feel better!  She said I was a Scaredy Cat – No idea what she's talking about!
When Dr Rick came in, I turned around on the bench and hid in the corner, well until, he brought out the cookies!
Luckily nothing happened and I got to go home after a little walk in the parking lot to prove to Dr Rick there was nothing wrong with my leg, Mum then had to take a video of me at home to send to him – doh!
Mum and Dad tricked me so they could get the video and Mum insists I show you it, so she can prove she wasn't making it up about my limp – It looks super bad on the video – doh!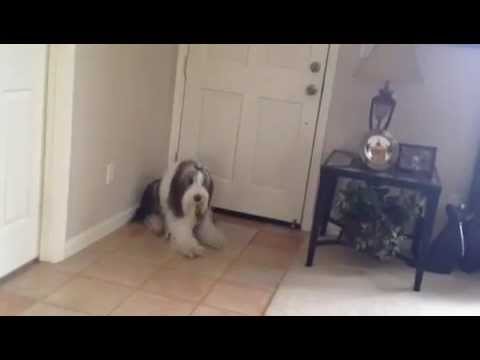 This video whisked it's way off to Dr Rick and I had to go back again on Saturday morning to the vet – but guess what, by this time I'm totally cured – Yep, less than 2 days after the video – No Limp!  Tee Hee
The great news is Dr Rick said I can run again – woohoo!!  I think I'm gonna be monitored….. nothing new there….
I wonder what mischief everyone else has been up to?
I'm in the Monday Mischief Blog Hop -
GRAB THE BUTTON – Just copy the code below
<div align="center"><a href="http://snoopysdogblog.com/" title="Snoopy's Dog Blog"><img src="http://3.bp.blogspot.com/-cXIn256AHbY/Trhi0uYkG0I/AAAAAAAAAV8/06Sm33olJaw/s1600/Bloghop.jpg" alt="Snoopy's Dog Blog" style="border:none;" /></a></div>
Want to join in the Monday Mischief fun too? Just click on the link below and connect your post -
Even if you're 'Non-mischievous' you can join in too – anything Pet related is cool !! I can't even imagine not being a Mischief Maker – Tee Hee