I'm an only dog and some times it's really hard to do all the dog work on your own!
This week has been exhausting!
It's been very quiet on the Squirrel front (thankfully!), but oh boy, have the birds been up to mischief!
At the start of the week I realized we had uninvited house guests – they just decided they were going to build a house in one of MY trees in MY garden!
All the noise they were making gave them away!  I finally realized there was a whole family in there!
The hardest part was all the goings on!  Mum thinks I come in and out of the house too much, she should see how often these guys were coming and going!
And of course every time there was any movement I had to be on duty to escort them on and off the property!
Mum decided to take some video of my hard work – she says they weren't really up to mischief, they were just being birds and I was just being a dog!
I'm not sure and I'm also not sure if Mum was up to mischief when she was editing my video?!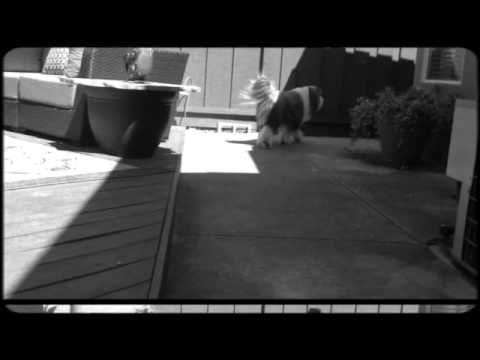 Anyway, if you watched the video, you can probably understand why I eventually collapsed on the job!  We so need another dog around here!
Do you ever feel like you do more than your fair share of the workload?
Finally, I just discovered my Mischief Master Class book is currently discounted on Amazon – So, if you have someone in your life who needs a little extra Mischief training, follow the link to Amazon – not sure how long it will be at this price!
I'm in the Monday Mischief Blog Hop -
GRAB THE BUTTON – Just copy the code below
<div align="center"><a href="http://snoopysdogblog.com/" title="Snoopy's Dog Blog"><img src="http://3.bp.blogspot.com/-cXIn256AHbY/Trhi0uYkG0I/AAAAAAAAAV8/06Sm33olJaw/s1600/Bloghop.jpg" alt="Snoopy's Dog Blog" style="border:none;" /></a></div>
Want to join in the Monday Mischief fun too? Just click on the link below and connect your post -