For anyone who's known me for a little while now, you might know Mum's been getting me to work on my Cat Manners!  I've been known to be a little mischievous around Bella the Cat!
In addition to visiting seniors on my therapy visits Mum wants me to be able to hang out with young children and help them to read.
This would mean I have to give all my attention to the children and not any cats that might be on our visits too.
When I was young I was cool with cats, then some started running away as I approached, hence I got all confused as to how to behave…..
So Mum has been training me to learn that cats aren't giant squirrels and they're really no big deal!
Of course I told Mum I'd learn really fast if she let me get a cat of my own, but she didn't go for that and we've been doing it with other cats we meet….
One cat we met was really scary and didn't want to play the squirrel and actually started trying to box me with her paws, I ran away backed off super quick, luckily for my street cred Mum didn't get that on video!
Last week Cosmo and I met a kitty on our walk who wasn't interested in running away and wanted to hang out with us, frankly I was quite confused and really didn't know what to do!
Check out this little video of our first meeting…..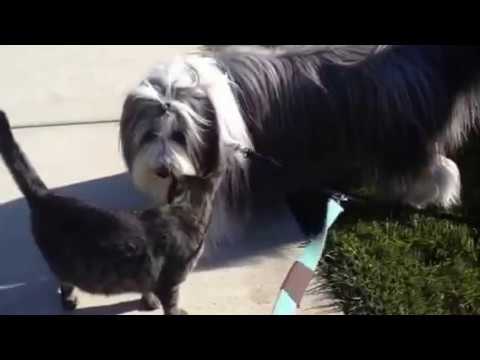 I wonder how other dogs learned how to behave around cats?
I'm in the Monday Mischief Blog Hop -
GRAB THE BUTTON – Just copy the code below
<div align="center"><a href="http://snoopysdogblog.com/" title="Snoopy's Dog Blog"><img src="http://3.bp.blogspot.com/-cXIn256AHbY/Trhi0uYkG0I/AAAAAAAAAV8/06Sm33olJaw/s1600/Bloghop.jpg" alt="Snoopy's Dog Blog" style="border:none;" /></a></div>
Want to join in the Monday Mischief fun too? Just click on the link below and connect your post -