The humans' bedroom used to be a super safe place, that is until a couple of weeks ago!
They brought another Dog home and it looks like me, but it doesn't seem to want to play with me, it's really weird and it actually scared me, so I barked at it – I gave it a warning growl though!
Mum seemed to think it was funny, I don't get the joke!  She even videoed it to show Dad!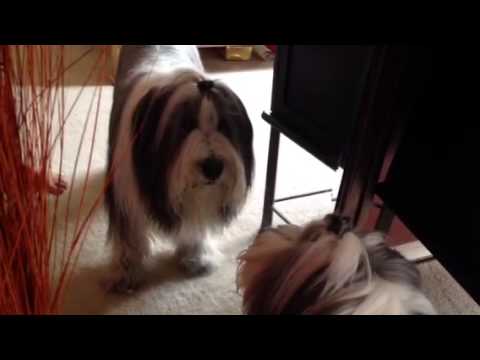 I wonder if anyone else's humans are up to mischief and bring home a look-a-like pet who won't play too?
I'm in the Monday Mischief Blog Hop -
GRAB THE BUTTON – Just copy the code below
<div align="center"><a href="http://snoopysdogblog.com/" title="Snoopy's Dog Blog"><img src="http://3.bp.blogspot.com/-cXIn256AHbY/Trhi0uYkG0I/AAAAAAAAAV8/06Sm33olJaw/s1600/Bloghop.jpg" alt="Snoopy's Dog Blog" style="border:none;" /></a></div>
Want to join in the Monday Mischief fun too? Just click on the link below and connect your post -