I know some Dogs and Cats, and actually, I even know of a mini pig, who are lucky enough to have their own door into the garden, so they can come and go as they please!
I've not been so lucky, Mum insists I ask permission each time I want to go in or out and I usually either sit by the door, or if she doesn't notice I tap on the window or if I'm outside and not being let in I bark!  Tee Hee
If you saw my previous post, this approach doesn't work too well when I need to get out in a hurry!
Well, I decided this approach needed to change…..
A few months ago we got new screen doors (cos 'someone' had put some holes in the old ones!)
 These new doors are especially designed with doggies in mind and they're extra strong, plus when you touch them they give way at the top and bottom so it's harder to tear them.  What I also realized was they're on a magnet, so I worked out how to open the screen door!
Mum discovered I was doing this a couple of weeks ago, due to the screen being open when it shouldn't be, but she hadn't actually caught me doing it, so I decided to give her a demo!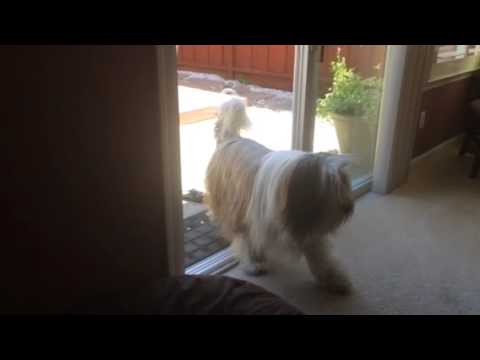 Yep, I'm still working on how I can shut the door behind me so the flies don't get in, but that's a bit more tricky and frankly I'm pretty good at fly catching anyway, so what's the big deal?!
Has anyone else been working on any new tricks?
I'm in the Monday Mischief Blog Hop -
GRAB THE BUTTON – Just copy the code below
<div align="center"><a href="http://snoopysdogblog.com/" title="Snoopy's Dog Blog"><img src="http://3.bp.blogspot.com/-cXIn256AHbY/Trhi0uYkG0I/AAAAAAAAAV8/06Sm33olJaw/s1600/Bloghop.jpg" alt="Snoopy's Dog Blog" style="border:none;" /></a></div>
Want to join in the Monday Mischief fun too? Just click on the link below and connect your post -