Does anyone else play laser tag?  I started playing this a few years ago when Mum and Dad came home late one night, it was wet outside and Mum wanted me to get a little exercise, I was hooked!
This game is awesome!  I worked out where the laser lives and whenever Mum and Dad came home late I would stare at the laser and then look around on the floor like I was playing the game, luckily they soon caught on what I wanted.  I considered it my reward for being left home alone in the evening…..
Fast forward to today, I ask to play laser even in the day time now, any excuse I get – Tee Hee
So, if that's not enough mischief, Mum took a video of me playing and decided to make it go into slow motion – you should hear my roar each time I get close to the laser, I sound like a Lion!  Mum also sounds pretty funny when she talks to me at the end!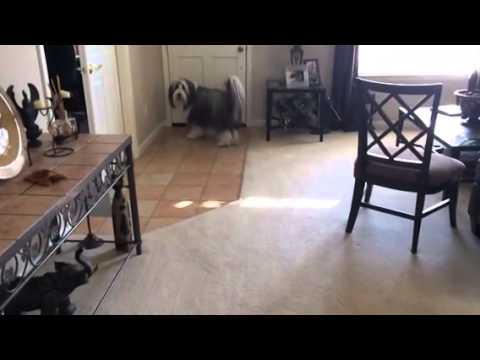 Anyone else in charge of playtime in your home too?
PS -   Before I go, I have to tell you that after Four and a half years of blogging, over 600 posts and over 200 videos I've decided to take a little break.
I figured the Holidays would be a good time to take some time off, I like to be available in case Santa needs me!
- however, the Monday Mischief Blog Hop will still be business as usual and you can find the link each week at either Alfie's Blog or the Brown Newfies blog – I have a feeling they post a little later than me, so you may have to check back on Monday, but don't worry they'll have the links!
Have a wonderful time over the holidays everyone!
I'm in the Monday Mischief Blog Hop -
GRAB THE BUTTON – Just copy the code below
<div align="center"><a href="http://snoopysdogblog.com/" title="Snoopy's Dog Blog"><img src="http://3.bp.blogspot.com/-cXIn256AHbY/Trhi0uYkG0I/AAAAAAAAAV8/06Sm33olJaw/s1600/Bloghop.jpg" alt="Snoopy's Dog Blog" style="border:none;" /></a></div>
Want to join in the Monday Mischief fun too? Just click on the link below and connect your post -